What is breast augmentation?
Breast augmentation can help women to achieve a larger cup size, combating volume loss in the breasts due to pregnancy, genetics, aging, or weight fluctuations. Those with tubular breast deformity may also benefit from the procedure. Breast augmentation is often paired with a breast lift, which helps to correct sagging and downward-facing nipples.
During your breast augmentation consultation in our Dallas office, Dr. Beale will discuss your options for your implants. You can choose saline, silicone, or Gummy Bear implants, and each selection comes in a variety of sizes, shapes, and textures. You will be able to hold them in your hands and try them on under your blouse. You will also decide the best incision placement for your surgery and whether you would like the implants under or over the pectoral muscles in the chest.
While there is a lot of information to cover, Dr. Beale makes the consultation process fun and stress-free. You will walk away feeling informed and empowered rather than overwhelmed.


Who is an ideal candidate for breast augmentation?
Breast augmentation is performed to enhance the bust and increase the cup size. It is a safe, effective procedure, provided you are a non-smoker in good mental and physical health, and you are free from any significant medical concerns that might impede your treatment.
Clients should have a positive, realistic outlook regarding their breast augmentation, understanding that the procedure can lead to improvement, but not perfection. Dr. Beale will meet with you in private to discuss whether breast augmentation can fulfill your goals and help you to achieve your ideal physique.
Why choose Dr. Beale for breast augmentation?
During every breast augmentation performed in his Dallas office, Dr. Beale strives to create natural results – never contrived or fake-looking. Particularly in the art of breast augmentation, it is important you choose a surgeon who works with your individual anatomy. Dr. Beale takes all facets into account and will not attempt to deliver a result that is unsuitable for your unique body type. His common-sense approach combines advanced technical skill with an artistic eye, ensuring an optimal outcome.
In addition to your nuanced surgical results, Dr. Beale ensures comfort during each step of your journey. Both he and his staff see to every detail, helping your experience remain smooth and effective. Your first step will be a private consultation in his Park Cities office, during which the two of you will discuss breast augmentation in depth, allowing you to make an informed decision. To explore your options, please call our office to schedule an appointment.
What are the benefits of breast augmentation?
Adds volume and roundness to the bust
Improves wardrobe options
Provides a feminine and youthful-looking profile
Enhances self-confidence
Natural-looking results customized to your tastes
Long-lasting outcome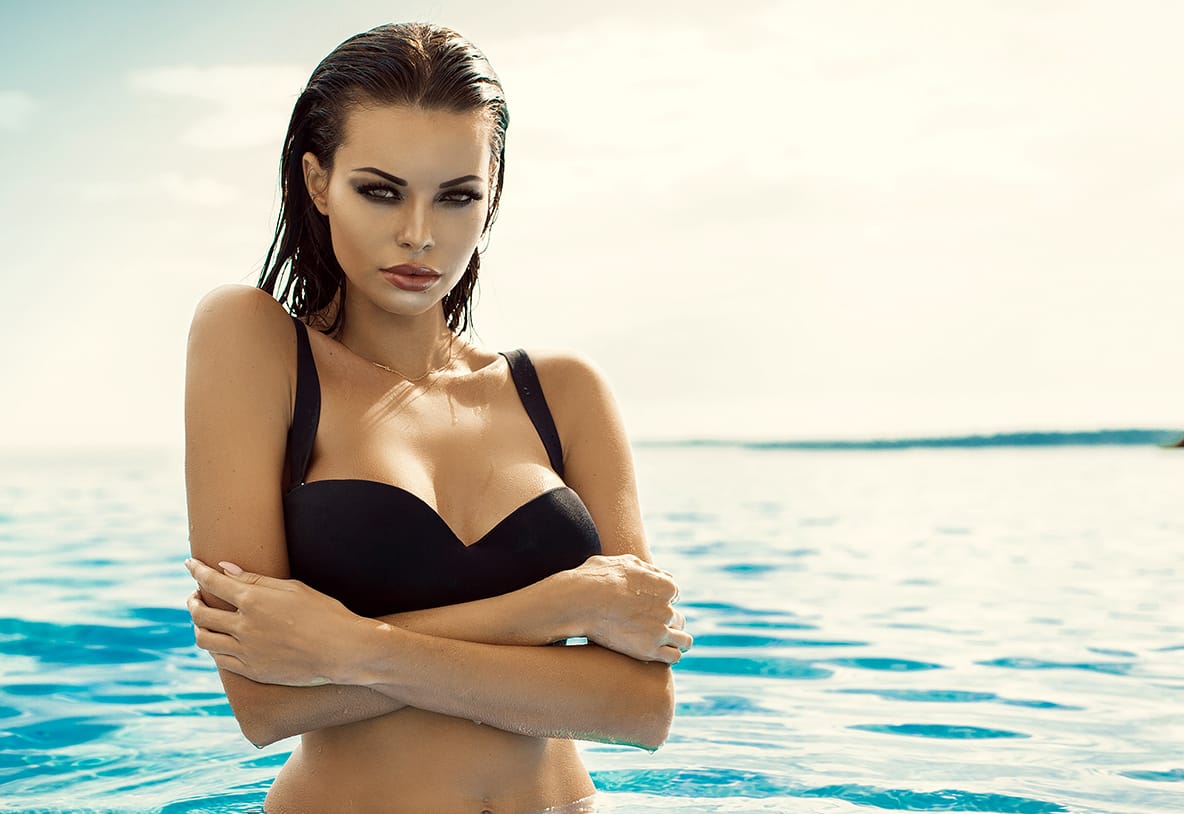 What size and shape
should my implants be?
During your consultation, Dr. Beale will conduct a physical examination and a thorough review of your medical and surgical history. He will answer your questions and listen to you carefully as you describe your goals.
Breast implants come in round and teardrop shapes. Teardrop implants are fuller at the bottom than at the top to approximate the natural breast. Round implants provide more cleavage.
Dr. Beale will make recommendations based on his many years of experience providing successful breast augmentation surgery in Dallas area. Your unique anatomy must be considered. For example, your height, the width of your chest, and the proportions of your body should all be assessed when customizing the implant size and shape.
Gallery
Look over our gallery to view the results we consistently achieve with our clients – unretouched.
Explore
What type of implants
should I choose?
There are three choices for breast implants: Saline, silicone, and Gummy Bears. The decision regarding which type of implants to choose is personal and can be discussed during your private consultation with Dr. Beale.
Saline implants are FDA-approved for women over 18, while silicone implants are approved for those 21 and over. Dr. Beale has been delighting women in and around Dallas with their breast implant results throughout his career. He achieves stunning results with all three breast implant types.
Where should my incisions be placed?
The choice of incisions for breast augmentation is typically based on the type of implants chosen and on your degree of concern regarding scarring. The doctor will discuss the pros and cons of each incision type with you in detail during your initial consultation.
What are my options for implant placement?
Subglandular placement
Here, the implants are placed above the pec muscles. This approach works best for women with ample breast tissue to cover the implants. Recovery time is shortened and the final result of surgery can be seen within a few weeks. On the downside, subglandular placement has a higher rate of complications, such as capsular contracture and rippling. Also, this placement may result in the portions of the implants being visible.
Submuscular placement
This approach entails placing the implants below the pec muscles. This is ideal for thin women who lack the necessary breast tissue to camouflage their implants. The curves of the breasts appear more natural and the implants remain invisible. The downside of this placement is that recovery may take longer and may come with more swelling. Consequently, it may be several months before the client can enjoy their final aesthetic results.
How do I know if I need a breast lift in addition to my breast augmentation?
If you feel you need to correct substantial breast sagging in addition to a lack of breast volume, you may need to combine your breast augmentation in Dallas with a breast lift. Many of our patients whose breasts have been affected by aging, pregnancy, and breastfeeding suffer not just from volume loss but sagging as well. Breast sagging often indicates a loss in skin elasticity, and placing heavy implants in such skin may worsen the sagging. To make sure our patients get the very best outcomes, a combination procedure might be necessary.
How often will I need to replace my breast implants?
There's a common misconception that almost all women with breast augmentation will require a breast implant exchange every ten years or so. The truth is, many modern implants are durable enough to last for much longer. The only times you'll need to exchange your implants is if you want a different look, or on a rare occasion, the implants fail and need to be replaced. If you're happy with how your breasts look, feel, and move, then there's no need to have them replaced.
Will implants prevent me from breastfeeding if I become pregnant?
Many women can successfully breastfeed after breast augmentation, although milk production abilities may be lowered. If you have concerns about breastfeeding with implants, talk with Dr. Beale before surgery so he can address your concerns.
Pregnancy, lactation, and breastfeeding all bring about changes to the breast tissue. If you have breast implants and you get pregnant, the changes in your breast tissue might lead to irregular breast shape and breast implant malposition.
For this reason, many plastic surgeons recommend that patients wait until they're completely done having children before they pursue cosmetic surgery. Of course, it is possible that patients can retain their breast augmentation results even after a subsequent pregnancy, but the odds are that your outcome will be significantly affected. If this occurs, another procedure may be necessary to revise the result.
When will I see the full results of my breast augmentation?
During the initial stages of your recovery, it might feel as if your implants are riding in a higher position or that they have hardened. It will take some time for your skin and breast tissues to relax and for your implants to settle down into the breast implant pockets. The swelling in your tissues and its tightness should dissipate completely after 3-6 months, but depending on your anatomy, it may take longer. During your initial consultation, Dr. Beale will fully cover this aspect of breast augmentation.
Rate Us
Rate Us!
Please take a moment to rate your experience
with our team.