YOUR SKINCARE ROUTINE: DON'T NEGLECT THESE KEY AREAS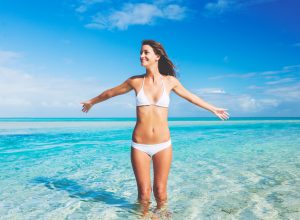 Cleanse, correct, moisturize, and protect are the simple steps to skincare perfection. We all know that washing your face daily and using sunscreen are essential, but skincare doesn't stop with the face. Other important areas on your body may be a little neglected. Give these oft forgotten areas the same TLC that you give your face.
HANDS
Your hands are workhorses, tackling tough jobs and big messes with ease. Odds are, you wash your hands several times a day, potentially with harsh, drying soaps. Your hands get just as much sunlight as your face, but often get much less attention. This leads to thin, wrinkled skin on the hands, bulging veins, and other surefire signs of aging on their delicate skin.
DÉCOLLETÉ
The décolleté is a fancy word to describe the upper chest and neckline. Most of our patients wear lower cut tops and dresses most of the time, leaving this area heavily exposed to the sun and elements. The upper chest is one of the most forgotten skincare areas, and many women have wrinkles and significant sun damage in this area.
NECK 
An aging neck can give away your true age, even if your face hides it well. The skin on the neck is prone to wrinkling, sagging, and banding. Frequent sun exposure can make these problems more severe. A surgical solution for an aging neck is a neck lift, but with good skincare before aging sets in, many patients can delay this surgery significantly.
WHAT SKINCARE PRODUCTS SHOULD I USE ON MY HANDS, DÉCOLLETÉ, AND NECK?
If you have skincare products that you love for your face, you already have everything you need to care for your hands, décolleté, and neck. Facial products work great on these sun exposed areas too. Simply replicate what you're doing for your face for these areas.
Choosing quality products for your skin can be difficult, and we're here to help. You can conveniently shop Dr. Beale's recommended skincare line, SkinMedica, online or come into our office for personalized product recommendations for your skin type and concerns. These high-quality products are scientifically developed using clinically tested ingredients that leverage the skin's natural healing properties. If you're looking for a high quality, advanced product line, SkinMedica is an excellent pick. SkinMedica products are safe to use on the face, neck, décolleté, and hands.
What products should you be using? Skincare regimens vary depending on age, skincare goals, and lifestyle, but these basic essentials are a must for almost every patient.
Cleanse- Cleansing the skin removes dead skin cells, oils, and dirt, creating a fresh palate for other skincare products and makeup. Skin type is an important consideration when choosing a cleanser. If you don't have one you love, let us know and we'll help you choose an effective cleanser for your skin type.
Correct- Youthful skin looks great without much effort, but as you get older, your skin may require targeted treatment. Serums and repair creams can give your skin extra help for fighting pigmentation irregularities, wrinkles, acne, and other skin concerns. Let us recommend correcting products for your biggest skin concerns.
Moisturize- Moisturizing is important for supple, beautiful skin, even if you have naturally oily or greasy skin. Moisturizer provides a layer of protection for the skin and ensures your skin cells stay optimally hydrated.
Protect- Every patient of ours should use sunscreen every day. Sunscreen protects the skin from damaging UV rays, a primary cause of premature aging. Apply sun protect liberally and often, especially if you're spending several hours in the sun.
Are you taking proper care of these often neglected skincare areas? Call Dr. Beale's plastic surgery office in Dallas, TX for personalized skincare advice.