YOUR DREAM BREASTS BY SUMMER: BREAST AUGMENTATION RECOVERY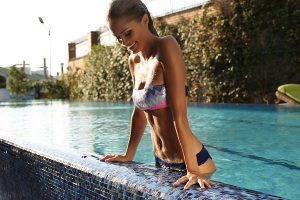 Fight back against winter's cold by taking a daydream vacation to summer. Is your body ready to sport a bikini poolside this year when the weather warms up? If you want bigger, fuller breasts by summer, come see us now for breast augmentation. Come in this winter for breast surgery and be fully recovered and ready to show off your new look by summer. Here's what you need to know about breast augmentation recovery.
BREAST AUGMENTATION RECOVERY BASICS
If you're worried about breast augmentation recovery, remember, the secret is time. Many women are pleasantly surprised by how quickly they recover after surgery. You'll feel a little better each day until you're back to your regular activities and enjoying your new breasts. Here's what to expect during recovery.
How You'll Feel- Tightness, bruising, and tenderness are common after breast augmentation. Many women also experience swelling. At first, you'll feel tired and groggy. Some women may feel nauseous right after surgery. Give yourself plenty of time to rest and stay on top of pain medications to keep comfortable.
Pain– Most women only need prescription pain medications for the first couple days. After that, you can use over-the-counter pain relievers if you need them. We'll provide a prescription for pain medication and help you choose safe and effective over-the-counter options. We recommend starting your pain medications before the anesthesia from surgery wears off. Don't wait until you're in pain to take pain medication.
Activity Restrictions– You'll recover quickly after breast augmentation. At first, you'll need to rest. Give yourself 48 hours before returning to activities and take it slowly. Gentle walks can help with circulation while you heal. Most women are able to return to basic activity in a few days and more strenuous activities within 4-6 weeks. Avoid exercise, especially exercises involving the chest, and heavy lifting until you're cleared to return to these activities by Dr. Beale.
Returning to Work– Your return to work will depend on many factors, including the specifics of your surgery and the type of work you do. We'll work with you so you can arrange for time off from work before surgery.
Sleep– You'll need to be careful when sleeping after breast augmentation. We'll give you detailed instructions before surgery.
Special Clothing– We'll provide you with a special surgical bra to wear while you heal. This provides support to the breasts and keeps the implants in position without irritating the incisions.
Sutures– We use dissolvable sutures so they will not need removal. All sutures are placed below the skin.
Help– Get help from family and friends for a more successful recovery. You'll need someone to drive you home from surgery and to bring you to your first post-operative check. If you have young children, you may need help with childcare for the first few weeks as you'll be unable to do any heavy lifting.
BREAST SURGERY NOW, BETTER BREASTS BY SUMMER
Winter is one of the best times for breast surgery. Come in now and you'll be enjoying your new breasts by summer. Here are few of the many benefits of winter breast augmentation:
Full Recovery by Summer– It can take time for the breasts to fully recovery after breast surgery. With winter breast augmentation, you'll be back to all regular activities, including water activities, well before summer. You'll also have time for the implants to soften and settle into a natural and aesthetically pleasing position.
Time for Bikini Shopping– The breasts will change size several times as swelling goes down and implants settle. With winter surgery, you'll achieve your final breast size in time for bikini shopping.
Easier to Hide Bandaging– You'll be heavily bandaged and will need to wear a special bra after breast surgery. Winter's many layers make it easier to hide bandages and recovery garments while you heal.
Call us today to schedule your breast augmentation consultation this winter with Dr. Beale.
OTHER PROCEDURES TO GET YOUR BODY READY FOR SUMMER
Breast augmentation isn't your only option for getting ready for summer.  Could you benefit from any of these popular pre-summer procedures?
Get your breasts, and body, ready for summer now. Call today and schedule a consultation with Dr. Beale.