WOULD YOU GET SOMEONE PLASTIC SURGERY AS A GIFT?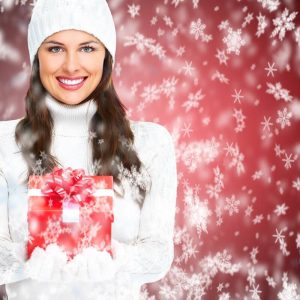 If you haven't already finished your holiday shopping, you may be scrambling for a few last-minute gifts. What do you get for the person that already has everything? Is it okay to gift plastic surgery? Let's look at the do's and the don'ts of giving plastic surgery this holiday season.
PLASTIC SURGERY- PERFECT GIFT OR PERFECT DISASTER?
You love plastic surgery. It helps you feel more comfortable and confident in your body. You've seen its many benefits and want to share them with the world. The holiday season is the time for sharing the things we love with those we love. What about plastic surgery? Should you share your love of cosmetic procedures this holiday season? Although plastic surgery can be an ideal gift, it can easily become a gift-giving disaster.
If someone has specifically asked for plastic surgery, gift away, but use caution if it hasn't been specifically requested. Suggesting or recommending a procedure to someone that isn't interested in surgery can be insulting or offensive. Plastic surgery can dramatically improve your appearance, but it isn't something that everyone is interested in. If a loved one hasn't specifically mentioned wanting plastic surgery, a candle or a box of chocolates is a safer holiday gift pick.
GIVING THE GIFT OF PLASTIC SURGERY- 8 WAYS TO GET IT RIGHT
For someone that wants plastic surgery, money toward a procedure can make holiday dreams come true. Breast augmentations, tummy tucks, and other procedures are an investment, and your holiday contribution can make it so much easier to afford a procedure. If you're giving plastic surgery this year, get it right with these eight helpful tips.
Give the Gift of Experience– If you've had plastic surgery, your knowledge can make an invaluable gift to someone that is preparing for a first procedure. Take your friend out to lunch and talk about your experience. Share tips and recommend your favorite surgeon if you have one.
Keep Options Open– Cash is one of the easiest and most effective ways to contribute toward plastic surgery. Don't lock someone into a specific procedure or surgeon, unless they've already made the decision themselves. Many patients have strong preferences about their choice of surgeon.
Leave the Decision Making to the Patient– Plastic surgery is a highly individualized decision, one that should be made by patient and surgeon. If you help a friend or loved one pay for a procedure, remember that they are still in charge. Let them make important medical decisions with their surgeon. They may decide that a different procedure than they originally intended will be a better fit for their goals after meeting with a board-certified plastic surgeon.
Pay a Little or a Lot- You don't have to spend thousands to help someone achieve their dream of plastic surgery. If you can't cover the entire cost of the procedure, you can still contribute toward liposuction, a facelift, etc. Give what you can, even small contributions can make plastic surgery more affordable and achievable.
Gift Idea- Recovery Support– You can support someone on their journey to plastic surgery without paying for the procedure itself. If you know someone that will be getting plastic surgery soon, give the gift of recovery support. The recovery period can be one of the most difficult parts of plastic surgery. Offer to help with household tasks or childcare for a few days after surgery. Rides to and from appointments can be very helpful, especially right after surgery. Healthy meals are another thoughtful way to support a friend after their procedure.
Minimally Invasive Procedures Make Great Gifts Too– Minimally invasive procedures are easy to give and highly appreciated. Would someone on your gift list like the gift of Botox® this year? Facials, chemical peels, and other non-surgical treatments can help your loved one to achieve their best skin for the holidays and beyond.
Plastic Surgery Isn't Right for Everyone– Not everyone is interested in plastic surgery, nor should they be. Plastic surgery can make an excellent last-minute gift, but it isn't the right option for everyone on your gift list this year.
Stuff Those Stocking with Skin Care Products– Skin care products make an excellent stocking stuffer. Come in for personalized product recommendations for yourself or a loved one.
TREAT YOURSELF THIS HOLIDAY SEASON
Make your own holiday wishes come true this year. If plastic surgery doesn't show up in a box under the tree, come see us and treat yourself. The New Year is quickly approaching and plastic surgery may be able to help you check a few resolutions off of your list this year. Call us to schedule your post-holiday treatments today. You deserve the gift of plastic surgery too. Financing options are available
Happy holidays from Dr. Beale and all of us! Call us to schedule an upcoming consultation or for advice on giving the gift of plastic surgery this year. We're here to help and we love to hear from you.