WHAT TO EXPECT FROM FACELIFT RECOVERY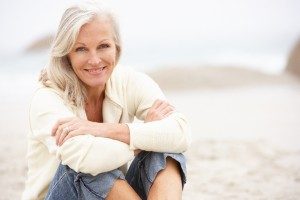 Many of our facelift patients feel a bit nervous about the recovery process. They look forward to enjoying their results, but worry about the time between surgery and when they will feel like themselves again. This guide will help you prepare for your facelift recovery. Don't hesitate to get in touch if you have any questions about your upcoming surgery or anything you experience during the recovery process.
IMMEDIATELY AFTER YOUR FACELIFT
A facelift is performed under general anesthesia. You'll wake up shortly after your surgery is complete. Some patients will return home that same day while some will need to spend the night in the hospital (we'll tell you what to expect before your surgery). If you're going home, someone will need to drive you and remain with you during the initial hours after surgery. You will be wearing a soft head wrap to support the incisions and will likely have some drains in place. Some pain, tightness, bruising, and swelling are common, but we'll provide pain medication to help you get through recovery as comfortably as possible.
1-2 DAYS POST SURGERY
You'll meet with Dr. Beale several times throughout your recovery period so he can assess your progress and address any concerns you may have. He typically removes the soft wrap and the surgical drains 1-2 days after surgery. Try to sleep sitting up during this time, as this can reduce the swelling you'll experience. You can shower a couple of days after surgery.
7-10 DAYS POST SURGERY
Most patients feel quite a bit better after about a week. Many patients return to work after 7-10 days. You can also resume driving at this time. Makeup can be worn after a week; camouflage cosmetics can cover any residual bruising or discoloration you may be experiencing. Sutures are removed after about a week.
LONGER TERM FACELIFT RECOVERY
You'll continue to heal and should see dramatic improvement in how you feel every couple of days until you're fully recovered. Avoid coloring your hair for about three weeks. Most patients wait at least four weeks to resume strenuous activities such as exercise. Swelling can remain for a couple weeks. Residual swelling under the eyes is often the last to resolve.
Don't hesitate to get in touch if you have any questions or concerns. Once you've recovered, you should enjoy your facelift results for many years.