WHAT IS THE DIFFERENCE BETWEEN WEIGHT LOSS AND BODY CONTOURING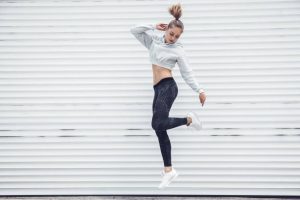 If you need to drop a few pounds, hit the gym or change your diet. If you want to sculpt away a stubborn bulge or roll, come see Dr. Beale for body contouring. Weight loss and body contouring aren't the same thing and the best methods for achieving these goals are very different. Odds are, you'll need both to achieve your ideal body.
WEIGHT LOSS VS. BODY CONTOURING
The average adult has about 30 billion fat cells. The number of fat cells in your body was set during your child and teen years and will remain constant throughout life. As you gain and lose weight, the size of your fat cells fluctuate, increasing as you gain weight and shrinking as you lose it.
Weight loss provides a total body transformation. As the body burns more calories than are consumed, fat cells shrink, typically from head to toe. This weight loss isn't targeted to a specific area and occurs as fat cells across the entire body decrease in size.
Unfortunately, fat cells are often concentrated in specific trouble spots. Love handles, double chins, and muffin tops are prime examples of these unwanted and hard to lose fat pockets. For these areas, body contouring is the solution.
Unlike weight loss that creates total body fat loss, body contouring focuses on a specific area. Fat cells are removed or destroyed, offering long lasting improvement to the contours in the treated areas. Dr. Beale primarily uses liposuction for body contouring in Dallas, TX. Removing unwanted fat cells creates long lasting improvement in problem areas as fat cells do not regenerate in adulthood. The fat cells we remove are permanently gone. Most patients will notice a lifelong improvement in the contours of areas treated with liposuction.
HOW LIPOSUCTION IMPROVES BODY CONTOURS
Liposuction is a surgical procedure for removing fat cells from the body, reducing the total number of fat cells in a treated area. This procedure isn't designed for weight loss and works best when used to treated localized pockets of fat. Do your best with diet and exercise first, and use body sculpting to treat stubborn areas that don't improve.
Liposuction can be performed on almost any area of the body. At our plastic surgery practice, commonly treated areas include:
Abdomen
Flanks and waist
Thighs
Back
Arms
Neck and under the chin
Liposuction effectively removes fat, but it doesn't treat loose skin or cellulite. If you're struggling with these issues, Dr. Beale will recommend other treatment options that will be more effective, like a tummy tuck. Patients that have lost significant weight may benefit from post-bariatric surgery.
LIPOSUCTION IN DALLAS, TX- WHAT TO EXPECT
There are many different types of liposuction, each offering unique benefits. Dr. Beale is familiar with all techniques and will offer his recommendations on the most effective types of liposuction for you during a consultation. Although each type of liposuction has differences, a similar process is used for most methods.
We start liposuction with a few small incisions. These tiny incisions are carefully placed to minimize their appearance. A cannula, or a thin metal tube, is placed into the incision and carefully positioned in the treatment area. Suction is applied to remove fat through the cannula. Dr. Beale carefully controls fat removal to ensure each treatment area is shaped to perfection. To finish the procedure, Dr. Beale closes incisions and carefully wraps the area. Often a compression garment is used to hold tissues and reduce swelling.
Liposuction is typically an outpatient procedure and you'll return home the same day as your treatment. Most patients resume regular activity within a week and more strenuous activities, like exercise, in 3-4 weeks.
MAINTAINING YOUR NEW LOOK AFTER LIPOSUCTION
Liposuction permanently removes fat cells, providing long lasting shaping and contouring. Most patients will experience a permanent, lifelong change in the appearance of the treated area. Weight gain is still possible, so we recommend a healthy diet and an active lifestyle to maintain optimal health. Weight fluctuations can negatively affect liposuction results.
Call Dr. Evan Beale at 972-566-3001 to schedule your liposuction consultation in Dallas, TX today.