UNHAPPY WITH YOUR BREAST IMPLANTS? EXCHANGE THEM!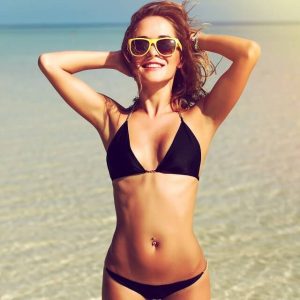 Are you still in love with your breast implants? If your once beloved implants have fallen out of favor, come see us. As the years change, so do your aesthetic goals, and your current implants may no longer meet your changing needs. Dr. Evan Beale, board-certified plastic surgeon in Dallas, TX is ready to help you fall in love with your breast implants again.
CAN BREAST IMPLANT EXCHANGE ADDRESS MY BREAST COMPLAINTS?
Most of the time, there is no need to swap out breast implants unless there's a problem. If you're unhappy with your implants, come see Dr. Beale and discuss your options. Many of the following breast complaints can be corrected with breast implant exchange or revision surgery. Dr. Beale will examine your breasts and make treatment recommendations during your consultation.
Breasts are too Large or too Small– Are your breasts larger or smaller than you would like? By changing your implant size, we can change the size of the breasts. Size changes aren't always medically advisable. Dr. Beale will discuss your options during your consultation and will help you determine if you can safely change breast size.
Sagging Breasts– Breast sagging, or ptosis, is a common complaint and can occur whether you have implants or not. It is especially common after pregnancy and weight loss. If you have sagging, you may need a breast lift, a surgical procedure that removes excess skin and lifts the breast tissues. We can often pair implant exchange with a breast lift.
Implant Leak or Rupture– Modern breast implants are strong and long-lasting. Leaks are uncommon, but when they occur, require an implant exchange. It can be hard to spot a leak with silicone implants and imaging technology may be needed. Saline implants will deflate if a leak occurs. If you have a leak, we'll need to remove and replace your implants. Many women will change implant type or size at the same time.
Capsular Contracture– Capsular contracture is a breast augmentation complication that occurs when the tissue pocket, or capsule, surrounding the implant begins to contract. It can change the feel of your implants and in extreme cases may distort the shape of your breasts or cause discomfort. Capsular contracture is treated with implant exchange.
Aging Implants- You may have heard that implants need to be exchanged every 10 years. This isn't necessarily true. Implants don't always last forever, but they often last for decades. Some women may choose to replace their implants after 10-15 years. This isn't always needed, but if you're concerned about your aging implants, come see us and we'll talk about options and help you decide if it is time to swap.
Desire for a Different Implant Type- Do you have saline breast implants, but wish you had silicone? Do you want to trade your silicone implants for newer gummy bear implants? Some women pursue breast augmentation revision because they want a different type of implant. We offer saline, silicone, and cohesive silicone (gummy bear) implants.
Breast Changes After Pregnancy- Pregnancy changes the breasts. After pregnancy some women find that they are no longer happy with their breast size or shape. Implant exchange is often part of a mommy makeover and can restore your breasts after pregnancy or breastfeeding.
If you're unhappy with the appearance of your breasts after breast augmentation, schedule a consultation with Dr. Beale to find out if you're a good candidate for implant revision.
FAQS ABOUT BREAST IMPLANT EXCHANGE
To trade or not to trade? Making the decision to exchange your breast implants can be difficult. We're here to help and advise you throughout the process. It is normal to have questions. We're sharing answers to some common questions about implant exchange below. If you don't see your question on the list, call us for personalized answers or advice.
What's Recovery Like After Implant Exchange? – Most women find that recovery from revision surgery is similar to recovery after an initial breast augmentation. Swelling, bruising, tightness, and discomfort are common. We'll provide pain medication to help you stay comfortable. Plan on missing 1-2 weeks of work and 3-4 weeks of exercise.
Do I Need to Replace My Breast Implants Every 10 Years? – Implants don't need replacement on a set schedule. If your implants are meeting your needs and you aren't experiencing any complications, you can likely keep the same implants, even if it has been 10 years. If you're experiencing complications, you'll need to replace your implants. Dr. Beale can help you decide if your implants need to be replaced.
Can You Use My Original Breast Augmentation Incisions for Breast Revision Surgery? – Dr. Beale will use your original breast augmentation incisions when possible to reduce additional scarring on the breast. Reusing incisions is often possible, but not always. New incisions are typically needed if you're getting a breast lift.
Will I Need to Stay in the Hospital After Implant Revision Surgery? – Breast implant revision is typically performed as an outpatient procedure. Most patients can return home a few hours after surgery. You'll need someone to drive you home and stay with you for the first couple days.
If you're unhappy with your breast implants, it may be time to make a change. Call our Dallas, TX offices to schedule a breast revision consultation with Dr. Beale.