TUMMY TUCK TIME … ROCK YOUR BIKINI WITH CONFIDENCE!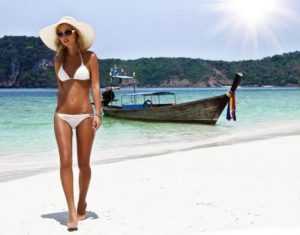 Does a sagging tummy send you reaching for a one-piece? Not that there's anything wrong with that! This summer, though, we want you to rock your bikini with confidence. A tummy tuck can restore a flatter, tighter appearance to your mid-section. Grab that yellow polka dot bikini you've always wanted and come see us for a tummy tuck!
WHAT IS A TUMMY TUCK?
A tummy tuck—also known as abdominoplasty—is a popular surgical procedure among men and women to restore a flat, youthful appearance to the abdominal area. This is one of the hardest areas on the body to keep trim and fit. Thinning skin and fat deposits are common in this area, and many struggle with a sagging appearance. If you've lost weight or had pregnancies, the skin might also be stretched out and loose. A tummy tuck addresses these issues.
An incision is typically made low on the abdomen (below the bikini line), excess skin is removed, muscles are tightened, fat is removed, and the area is stitched closed. Since the procedure is custom-tailored to your needs, it may be more or less invasive. We'll give you a better idea of what to expect after a physical examination.
I'M PLANNING ON ADDITIONAL PREGNANCIES. SHOULD I WAIT TO HAVE A TUMMY TUCK?
A tummy tuck is a dramatic transformation for your mid-section, and is best performed after you're at a stable weight and finished with pregnancy. Your results may be undone (the abdominal muscles can separate or the skin can stretch again) if a future pregnancy occurs. We recommend waiting until you're finished having children and are close to your target weight.
WHAT'S RECOVERY LIKE AFTER A TUMMY TUCK?
If you're planning a tummy tuck now, you may be wondering when you'll be swimsuit-ready. Most patients rest for 1-2 weeks and avoid strenuous activities for about 6 weeks. Since the incision is low on the abdomen and under the bikini line, it will be hidden by your swimsuit when you are cleared to hit the beach.
Summer's coming. Is your body ready? Call and schedule your tummy tuck consultation with Dr. Beale today.