TIPS TO MAKE YOUR MOMMY MAKEOVER RESULTS LAST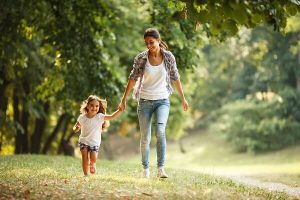 Having babies certainly takes its toll on your appearance, but unwanted changes to your post-baby body can be reversed with a mommy makeover. A mommy makeover is an investment in you, and like all investments, you want it to last. We're sharing our best tips for maintaining your results after a mommy makeover.
THE DO'S AND DON'TS OF MOMMY MAKEOVER MAINTENANCE
A mommy makeover is a total body transformation after pregnancy, childbirth, and breastfeeding. It combines several plastic surgery treatments to address common post-pregnancy complaints like breast sagging, stretched skin, and stubborn fat. Maintaining your results won't take a lot of effort, but there are a few things you'll want to do, and not do, for lasting results. These do's and don'ts of mommy makeover maintenance are good basic guidelines for keeping up your new look.
Do Exercise Often- After a long day of chasing after little ones, it can be difficult to head to the gym. For physical health and long-lasting mommy makeover results, make activity a priority. You don't have to lift weights or go to the gym if you don't enjoy these activities. Find the things you love to do. Running, hiking, swimming, yoga, and dance are all fun ways to keep fit.
Do Enjoy Balanced Foods – Fruits, vegetables, whole grains, and lean proteins should be the building blocks of any healthy diet. Keeping to healthy nutritional habits, while still allowing for the occasional indulgence, is a sustainable way to maintain your wellness and appearance.
Do Maintain a Stable Weight- Yo-yo diets wreak havoc on your body. Focus on a healthy lifestyle and avoid significant increases or decreases in your weight. Small fluctuations are normal and expected and shouldn't impact your results. To establish stable results, we recommend achieving a steady, consistent weight before your mommy makeover.
Do Seek Treatment after You're Done Expanding Your Family – Your mommy makeover reverses many of the body changes you experienced during pregnancy, but a future pregnancy can cause these changes to reoccur. We recommend waiting to schedule a mommy makeover until you have decided against future pregnancies.
Don't Smoke- Smoking is bad for your health. If you smoke, we'll ask you to stop before your surgery and during recovery. Quitting smoking can be challenging work, but it is worth the effort for your health and your appearance.
SUSTAINABLE MOMMY MAKEOVER RESULTS WITH SUPERIOR TREATMENT
Start your journey to a better post-baby body off right by choosing a skilled plastic surgeon for your mommy makeover. We know there are many plastic surgeons in Dallas, TX and are honored each time a patient chooses to work with us.
Why should you choose Dr. Evan Beale for your mommy makeover?
Advanced Plastic Surgery Training – Plastic surgery is a difficult specialty and deserves appropriate training. Choose a surgeon with extensive plastic surgery experience and training. Dr. Beale received years of first-class medical training in General Surgery and Plastic and Reconstructive Surgery at the University of Texas Southwestern Medical Center. He also completed a fellowship in Craniofacial and Pediatric Plastic Surgery at Medical City Dallas Children's Hospital.
Natural Looking Results – Dr. Beale has built his practice on the goal of providing natural-looking He'll work with you to create a natural and complementary look. Our goal is to enhance your beauty, not make you look like someone else.
Focus on the Patient – Plastic surgery requires in-depth collaboration between patient and surgeon. During consultations, Dr. Beale carefully listens, patiently answers questions, and collaborates with you to ensure best results.
Safety Is a Priority – We create stunning results for each patient but never compromise on safety. We don't perform procedures that aren't in the patient's best interest. Our surgeries are provided in state-of-the-art operating rooms at top area hospitals.
Get your body back after baby. Call our offices to schedule your mommy makeover consultation with Dr. Beale.