THE TUMMY TUCK'S 4 SURPRISING MEDICAL BENEFITS 2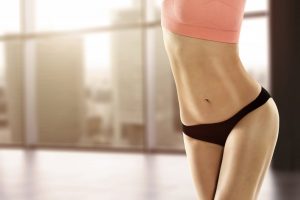 A flatter tummy is just the beginning. Many of our tummy tuck patients choose to have the surgery for its cosmetic benefits. After recovery, they are delighted to find that they feel better because of the hidden medical benefits a tummy tuck offers.
Look great and feel amazing with tummy tuck surgery in Dallas, TX. Learn more about this procedure by calling 972-566-3001.
NO MORE HERNIAS
A weak wall is easier to break through than a strong one. A ventral hernia occurs when the intestine or abdominal tissues penetrate the abdominal wall, creating a pouch. This condition usually requires surgical correction; an untreated ventral hernia can cause serious complications including a loss of blood supply to a portion of the intestine.
Unfortunately, once you've had one hernia, you're likely to have another. Hernias are a sign of a weak abdominal wall.
Tummy tuck surgery repairs and strengthens the abdominal muscles. This procedure is often recommended for patients that develop a ventral hernia. In many cases, it can be performed at the same time as hernia repair, reducing downtime and medical expenses while ensuring the problem doesn't reoccur.
STAND UP STRAIGHTER
Your bad posture may not be your fault.
Weak abdominal muscles make it difficult to stand up straight. Weight fluctuations and multiple pregnancies can significantly weaken the key muscles responsible for supporting the back. Back and neck pain ensue, common complaints for both men and women.
A tummy tuck tightens and strengthens the core. Many patients report better posture after surgery and a significant reduction in back pain symptoms. Could a tummy tuck bring you relief?
REDUCE UNWANTED ACCIDENTS
Stress urinary incontinence (SUI) is a common condition, affecting 1 in 3 women at some point during their lives. This type of incontinence leads to urine leakage when pressure is placed on the bladder. Exercise, laughing, and sneezing are common initiators for an unwanted leak in women with SUI.
SUI is common, but that doesn't make it normal. You shouldn't have to deal with unexpected leaks, big or small.
Strengthening the core through tummy tuck surgery often improves SUI symptoms. One recent study found that after a tummy tuck, urinary incontinence symptoms we no longer a significant concern for all but 2% of women. Surgery works quickly, with most patients noticing an improvement in SUI symptoms within the first 6 weeks after tummy tuck surgery.
Jump, laugh, run, and stay dry with a tummy tuck in Dallas, TX.
EASIER TO MAINTAIN YOUR BEST BODY
We all know that we should eat right and exercise often but putting these health recommendations into practice can be a challenge. Enter the tummy tuck.
When you see your tight, flat tummy after surgery, you may find the missing motivation to achieve your health goals. Our patients are often so delighted by their new look that they would never imagine letting it go. Saying no to those fries and yes to extra exercise is so much easier when you get the flat tummy as a reward in advance.
Are you a good candidate for tummy tuck surgery in Dallas, TX? Contact our office at 972-566-3001 to schedule a consultation with our board-certified plastic surgeon Dr. Evan Beale.