SHOULD I LIMIT MY SUN EXPOSURE AFTER A FACELIFT?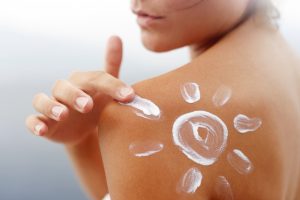 You've had your facelift, and now you are waiting to heal. You want to show off the new and improved you, but should you get outdoors and expose yourself to the sun's UV rays? When the wounds of your incisions are fresh and swelling and bruising is still visible, your skin is at its most vulnerable. Taking precautions now ensures proper healing and optimal results.
During facelift surgery, board-certified plastic surgeon, Dr. Evan Beale will make incisions to tighten your facial skin and its underlying tissue. This operation will require a recovery process that entails specific safety measures that safeguard the improvements for the long term.
AVOID SUN EXPOSURE FOR TWO WEEKS AFTER SURGERY
If you expose your face to the sun's UV rays too soon after a facelift, it will increase the risk of swelling and scarring. The sun's heat may also lead to inflammation and adverse bleeding. If you have to go outdoors, especially in Dallas during the warmer months, take these precautions to ensure you are well protected against the problems excessive sun-exposure may cause.
STAY COVERED
Okay, we know you can't spend all your time indoors, but when you go outside wear a visor or a wide-brimmed hat. Also, wear sunglasses (the bigger, the better) to shield any incision around the eyes. Polarized lenses that have 100% UV protection are the best. Scarves are also an excellent accessory to protect your incisions from the sun.
THINK SHADE
If you are outside for any length of time, find a shady spot, and stay there. A tall building, trees or other elevations are a good sanctuary out of the sun. Be careful with trees, however, because the sun's rays can still get through.
SUNSCREEN, ALWAYS!
It's essential to get into the habit of wearing sunscreen daily once your incisions heal. Apply an SPF 30 or higher early and often every day. Don't be confused by the weather either, wear sunscreen on the days when it's cloudy or raining as well. Incisions should flatten and get lighter with time after a facelift with proper care. Make sure once these wounds heal, you protect them from the sun with sunscreen.
LIMIT SUN EXPOSURE IN THE COMING MONTHS
Once your incisions heal, you should continue to take precautions when it comes to the sun. Don't tan or become a sun worshipper after your recovery but continue to avoid direct sun exposure for several months after surgery. Error on the side of caution when it comes to exposing your incisions to the sun.
Make limited sun-exposure a part of your lifestyle after your recovery is complete and enjoy the benefits of a facelift for several years to come.
LEARN MORE
If you are considering a facelift or any other aesthetic procedure to improve facial appearance or body contours, contact us today to ask your questions or schedule a consultation.
Call 972-566-3001 or schedule a consultation