NON-INVASIVE MICRO TREATMENTS AS FACELIFT ALTERNATIVES FOR THOSE IN THEIR EARLY 40S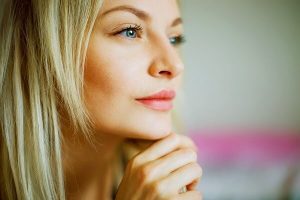 A facelift isn't the only way to rejuvenate your face. If you're starting to see signs of aging, but aren't quite ready for facelift surgery, ask us about non-invasive micro treatments. These facelift alternatives can smooth, tighten, and lift skin without the downtime of surgery. Come see Dr. Beale and discover a younger looking, rejuvenated face without a facelift.
I WANT A FACELIFT. DO I NEED TO WAIT?
Timing is essential for facelift surgery. Get your facelift too soon and there won't be enough loose skin for dramatic results. Wait too long and skin quality can decline. Dr. Beale typically recommends waiting until facial aging is moderate to severe before scheduling facelift surgery. We can help you decide if you're ready for facelift surgery or if a minimally invasive facelift alternative will provide good results.
It may be too soon for a facelift, but you may still be bothered by the early signs of facial aging. What can you do? We offer many alternative treatments that can rejuvenate the face without surgery or downtime.
FACELIFT ALTERNATIVES- WHAT ARE MY OPTIONS?
The signs of aging often start to appear as early as the late 20s. By the time you're in your 40s, aging is more pronounced. Many of our patients are ready to do something about their aging face, but aren't quite ready for a surgical facelift. What are your options?
We often recommended non-invasive micro treatments as an alternative to facelift surgery. These less invasive treatments can target and treat your areas of concern. Since they are non-invasive, downtime is minimal. These treatments are also less expensive than a surgical facelift and less painful. Which of these rejuvenating treatments is right for you?
Botox®– A powerful neuromodulator, Botox® is effective for treating dynamic wrinkles, or wrinkles caused by muscle movement. Every time you squint, smile, or laugh, facial muscles contract, pulling and creasing the skin. By relaxing the muscles that cause certain wrinkles, Botox® allows the skin to smooth and the wrinkles to fade. This treatment is effective for laugh lines, forehead creases, and lines between the brows. Botox® requires no downtime after treatment. You'll still be able to make normal facial expressions after treatment.
Dermal Fillers- Fill in wrinkles, smooth out hollows, and restore volume to the face with dermal fillers. These injectable fillers can be used from brow to chin to enhance and rejuvenate the face. We can also use fillers to augment the lips without implants. We often combine dermal fillers with Botox® for a non-surgical "liquid facelift". Many fillers require no downtime and offer long lasting results.
Skin Resurfacing– Get your best skin with our skin resurfacing treatments. By removing the outer layers of skin, we can reveal fresh, new skin. Treat brown spots, wrinkles, dull skin, and more with a resurfacing treatment. Many resurfacing treatments require little to no downtime. You may need a series of treatments to obtain optimal results.
Dr. Beale often recommends combining these minimally invasive treatments. You can get better results by pairing treatments together, often delaying or avoiding future plastic surgery. If you are ready for surgery, we may recommend one of these less invasive treatments too, further enhancing your surgical results.
ARE MINIMALLY INVASIVE FACELIFT ALTERNATIVES EFFECTIVE?
Dr. Beale is dedicated to providing his patients with the best aesthetic treatments available. Each minimally invasive procedure we offer has been carefully selected by Dr. Beale to ensure maximum results and patient safety. Results vary, depending on the treatments selected and the problems you're trying to treat, but overall, our facelift alternatives are very effective. Our patients are typically delighted with their results. Come in for a consultation and we'll help you decide if minimally invasive facelift alternatives will be effective for you. We want you to be delighted with your results, whatever treatment you choose, and we will work with you to find the right fit for your situation.
WHO IS A GOOD CANDIDATE FOR A FACELIFT ALTERNATIVE?
Non-invasive treatments can be highly effective, but they aren't the right option for every patient. You may be a good candidate for non-invasive micro treatments if:
You are in your late 30s or early 40s
You want to delay or avoid facelift surgery
You have realistic expectations about the results that can be achieved without surgery
You are in good health
A surgical facelift is the best option for some patients. If you have significant signs of aging or are in your 50s or 60s, you may benefit from a surgical facelift. We'll help you decide if surgery is your best option or if you can delay your facelift with minimally invasive options.
Rejuvenate your face without surgery. Call our offices today to learn more about our non-invasive facelift alternatives.