MOMMY MAKEOVER SERIES: RECOVERY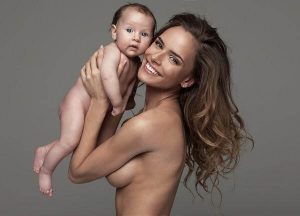 Give your post-baby body a transformation with a mommy makeover. After surgery and recovery, you'll enjoy a flatter tummy, perkier breasts, and head-to-toe rejuvenation. Oftentimes the surgery is completed in just a few hours, but what about recovery? Learn the basics about recovery after a mommy makeover.
WHEN WILL I GO HOME AFTER MOMMY MAKEOVER SURGERY?
While some patients can go home right after their surgery, around 90% of patients recover overnight with us. When you're ready to go home, you'll need someone to drive you and to stay with you for the first few days. At first, you'll need a lot of assistance, but you'll recover quickly. Many patients are back to light activity in a couple days and full activity in a few weeks.
IS RECOVERY PAINFUL AFTER A MOMMY MAKEOVER?
There will be moments of discomfort during your recovery after a mommy makeover, but the process shouldn't be overly painful. We can prescribe pain medications and will give you tips for a more comfortable recovery. Take it easy, rest a lot, and let us know if you experience extreme pain or any unexpected symptoms after surgery. Many of our patients are delighted to find that recovery is easier than they were expecting.
HOW MANY DAYS WILL I NEED TO TAKE OFF FROM WORK AFTER A MOMMY MAKEOVER?
Your mommy makeover will be customized to you. The amount of time you'll need off from work will vary depending on the procedures you receive and the type of work you do. We'll help you figure out your recovery needs during your consultation. Most patients are back to work within two weeks and back to full activity within six weeks.
TIPS FOR A SUCCESSFUL RECOVERY
Recovery isn't easy, but with a little preparation, it will be over quickly and you'll be enjoying your new body. These tips will help make recovery a success.
Rest and Recover- One of the best things you can do after surgery is rest. Take it easy and give your body time to heal.
Accept Support – Make sure to wear the compression garment given to you by Dr. Beale. A compression garment is helpful for reducing swelling, helping you get comfortable, and supporting your mommy makeover results.
Get Help- You'll need some help after your mommy makeover, at least for a few days. If you have small children, you may need help for a couple of weeks. Lifting heavy objects, including your children, isn't recommended the first few weeks after surgery.
Stay in Touch- We are here to help you throughout the recovery process. Get in touch if you have any questions or concerns. Make your follow-up appointments a priority.
After your mommy makeover recovery, you'll have your flat tummy and youthful breasts back. Contact us today and schedule your mommy makeover consultation with Dr. Beale.