MOMMY MAKEOVER SERIES: POST-BREASTFEEDING BREAST AUGMENTATION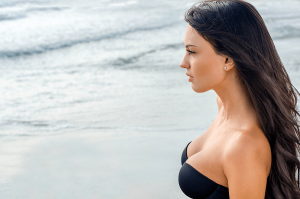 Breasts symbolize femininity in a woman. They may not be perfect, but they're beautiful. In fact, you're proud of them, whether you're an A cup or a triple D cup.
Then babies came.
You were ecstatic! Your breasts increased in size with each breastfeeding, and they looked amazing. You carried them like a badge of honor.
Then the time for weaning came, and sadly, things went downhill from there. While your baby grew, your breasts deflated. They no longer look as perky as they once did.
Well, don't be disheartened. There's still a way to restore your once full breasts, and that is through a mommy makeover. A mommy makeover is a series of surgical and non-surgical procedures that can restore your pre-pregnancy figure. One of the procedures you can include in your makeover package is breast augmentation, which can increase your breast size so they look full again.
Post-Breastfeeding Breast Augmentation
A consultation with Dr. Beale will help you with everything you need to know about breast augmentation. It helps to know more about it beforehand however, so you can prepare questions to ask him during your consultation. Below are some things you need to be aware of about this procedure:
Waiting Period
While it's suggested to wait at least three months after you last breastfed your baby to get the procedure, longer is better. One reason for this is that it's easier to determine the suitable implant size for you when your breasts size have fully settled into their 'new' post-breast feeding size. Secondly, it helps to prevent infection, as there are bacteria that naturally live in breast ducts.
Children in the Future
It's possible to breastfeed even after breast augmentation. However, as with all breast surgeries, there is the risk of severing nerves and ducts that could impair your ability to breastfeed. While Dr. Beale will work to ensure that you can still breastfeed should you decide to have another baby in the future, it's ideal to wait until after you had your last child before you can have the surgery.
Additional Procedures
Depending on your desired results, Dr. Beale may suggest an additional breast lift to your treatment plan. This is to lift sagging breasts so they can appear full and youthful.
The beauty of adding breast augmentation to your mommy makeover is that you can save on cost as well as recovery time. If you're ready to transform the size and shape of your breasts, schedule a consultation with Dr. Beale today.