LIPOSUCTION AND TUMMY TUCK: THE DREAM TEAM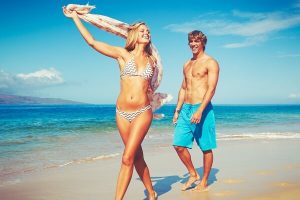 Transform your middle with the powerful one-two punch of liposuction + tummy tuck. We love pairing these two powerful procedures together to shape and sculpt the abdominal area. Learn why liposuction and tummy tuck are our dream team for a flatter, sculpted core.
WHAT IS LIPOSUCTION?
Got excess fat? Liposuction can help you fight back against unwanted rolls and bulges. This procedure is ideal for patients that are close to their ideal body weight but struggling with isolated fat pockets. Liposuction uses suction to remove fat cells through small, inconspicuous incisions. Since fat cells don't regenerate, this results in a lasting reduction of fat in the treated area. Liposuction can be used from head to toe, but some of the most popular treatment areas include the abdomen, thighs, hips, back, arms, and under the chin.
WHAT IS A TUMMY TUCK?
A tummy tuck, or abdominoplasty, is a targeted body contouring procedure that shapes and slims the abdomen. It removes excess fat and skin and tightens loose abdominal muscles. A tummy tuck is a popular addition to a mommy makeover or post-bariatric surgery. After a tummy tuck, patients enjoy a slimmed, tighter waistline.
GREAT ON THEIR OWN, BETTER TOGETHER- WHY LIPOSUCTION AND TUMMY TUCK ARE A DREAM TEAM
We love the results we can achieve through tummy tuck and liposuction on their own, but when you pair these two procedures together, the results are exponentially better. Here's what tummy tuck and liposuction can do for you:
Shape the abdomen and surrounding areas
Shape and sculpt the mid-section
Remove excess skin and fat simultaneously
Tighten, contour, and enhance the abdominal area
By pairing liposuction with tummy tuck surgery, we can truly transform the mid-section. We aren't limited by the constraints of a single procedure and can provide you with all the benefits of liposuction, all the benefits of tummy tuck surgery, and more. By pairing liposuction and tummy tuck together, you can achieve a better result that if each procedure occurred separately.
THE BENEFITS OF COMBINING PROCEDURES
Imagine getting the results from two aesthetic procedures with the downtime of one. Many of our patients love the results they achieve through plastic surgery, but may avoid a desired procedure due to a lack of time. If you only get a few weeks off from work a year, it can be difficult to schedule plastic surgery and aesthetic treatments, family visits, and travel/vacation. By combining procedures you can get maximum benefit with minimal downtime. Recover from multiple procedures at once!
There are other benefits to combining procedures like tummy tuck and liposuction. Fewer trips to the operating room often means fewer expenses. Many patients find it is more affordable to pair procedures together than to receive the same treatments separately.
Finally, results are improved when complementary procedures are performed at the same time. Liposuction removes fat but doesn't address loose skin. A tummy tuck tightens skin. When we do liposuction at the same time as a tummy tuck, we can remove excess skin created by the liposuction. By pairing these treatments together we can shape and enhance the abdomen more effectively and achieve a better end result for you.
RECOVERY AFTER LIPOSUCTION + TUMMY TUCK: WHAT TO EXPECT
Recovery timelines vary, often depending the procedures you receive and how aggressive they are. In general, most patients take two weeks off from work for a tummy tuck. This is usually sufficient time to recover from liposuction too. Patients report experiencing bruising, swelling, and discomfort during recovery. Pain medications and anti-inflammatory medications can dramatically improve the recovery experience. Dr. Beale generally recommends that patients avoid strenuous activities for about six weeks after a tummy tuck and liposuction combination treatment. Recovery from both procedures paired together is generally less time consuming than if the procedures were performed separately.
OTHER POWERFUL DUOS
Liposuction and a tummy tuck make a perfect pair, but this isn't the only powerful duo in our arsenal. We love combination treatments. Other popular combinations include:
Breast Augmentation + Breast Lift- Lift and enhance your breasts with a breast augmentation and breast lift This procedure will enhance the position and shape of the breasts while increasing their size. Often the implants can be placed through the incisions used for the breast lift, resulting in less scarring on and around the breast.
Mommy Makeover- Restore your body after baby! A mommy makeover addresses common post-pregnancy complaints like saggy breasts, loose abdominal skin, unwanted fat deposits, etc. We'll talk about your concerns and create a customized procedure that combines procedures like breast lift, tummy tuck, and liposuction.
Facelift + Brow Lift/Eyelid Lift- Take your facelift to the next level by adding in a brow lift or eyelid lift. While a facelift only addresses aging in the lower portion of the face, these procedures address changes around the eyes and on the brow for a full-face rejuvenation.
For a dream body, meet our dream team, liposuction and tummy tuck. Learn more about the benefits of combining these procedures during a one-on-one consultation with Dr. Beale. Call (972) 566-3001, today to schedule your appointment.