JUMP START YOUR FITNESS JOURNEY WITH A TUMMY TUCK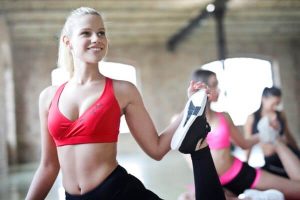 Did you resolve to get in better shape this year? Are your resolutions falling flat due to a saggy tummy that just won't budge? It can be hard to stay motivated toward fitness goals when you're not seeing the desired results in your body. Unfortunately, for many women and men, the tummy is one of those areas where you won't see results on your own. Hitting the gym and eating right won't ever correct stretched out abdominal muscles and loose skin from pregnancy and weight loss. Get your fitness goals back on track and jump start your new body with a tummy tuck. Schedule your consultation with Dr. Beale to learn more about your options.
TUMMY TUCK BASICS: WHAT YOU NEED TO KNOW
A tummy tuck, also known as abdominoplasty, is a surgical procedure designed to shape and reform the abdomen. It tightens up abdominal sagging, removes excess skin, creates a smaller waistline, corrects abdominal separation, and eliminates excess fat in the abdominal area. The result is a tighter, flatter, and slimmer middle. Tummy tuck surgery is often needed after pregnancy and weight loss to restore a flatter, tighter abdomen.
There are many different techniques for performing tummy tuck surgery, but generally a horizontal incision is made across the lower abdomen, below the bikini line. This scar will be completely hidden by clothing and even swimsuits. Some patients will need a second incision around the belly button. The abdominal skin is lifted up, stretched tight, and excess is removed. Abdominal muscles are tightened and repaired and excess fat is removed. Finally, the skin is replaced, the belly button is repositioned, if needed, and the incision is closed. We also offer a mini tummy tuck that removes excess skin in the lower abdomen only.
DIET, EXERCISE, AND TUMMY TUCKS
The abdominal area is one of the most difficult areas on the body to keep slim. As you get older, skin thins and fat deposits develop. Pregnancy can stretch out the skin and cause abdominal muscle separation. Diet and exercise can keep belly fat in check, but they won't correct thinning skin or muscle separation. Once fat deposits develop, it can be very difficult to lose them on your own.
A tummy tuck isn't an alternative to a healthy lifestyle. We think of it as a complement to your diet and exercise efforts. A tummy tuck will help remove excess skin and fat and tighten up muscles, but it is up to you to maintain things after surgery. The good news is, many of our patients find it is easier to stick to diet and exercise goals after tummy tuck surgery. A new look can be very motivating.
RECOVERY AFTER A TUMMY TUCK: WHAT TO EXPECT
Like any surgical procedure, a tummy tuck will require a period of rest and recovery after surgery. Most patients need 1-2 weeks of downtime. Swelling, bruising, and tenderness are common and expected. We'll provide pain relief and anti-inflammatory medications to ease your discomfort during the healing process. Most patients will also need a surgical drain and compression garments for a period of time. Schedule at least 2 weeks off from work and 4-6 weeks off from strenuous activities, like exercise.
Results are immediate after a tummy tuck and continue to improve as you heal and as swelling goes down. You'll see your final results a few weeks after surgery. Your scars will be dark and raised for a few months after surgery. Be patient as it takes time for scars to mature and fade.
MAINTAINING YOUR TUMMY TUCK RESULTS
With proper care, your tummy tuck results can last for many years. We recommend that patients maintain a healthy lifestyle after tummy tuck surgery. Diet and exercise will help you avoid developing new belly fat deposits after surgery. Avoid large weight fluctuations if possible. Pregnancy after a tummy tuck can stretch out the skin and cause the abdominal muscles to separate again. If you're planning future pregnancies, wait for your tummy tuck.
FINISH OFF YOUR WEIGHT LOSS JOURNEY WITH A TUMMY TUCK
Tummy tucks aren't just for starting a fitness journey. Many of our patients choose a tummy tuck or other body lift procedures at the end of a weight loss journey. Post-bariatric surgery patients may be left struggling with excess skin, uncomfortable rashes, and clothing that doesn't fit properly. For these patients, we often recommend post-bariatric surgery which often includes a tummy tuck. Removing this excess skin makes it easier to exercise and helps to restore body confidence after a difficult and rewarding weight loss journey.
Whether you're starting your journey to a better body or finishing it off, ask us about a tummy tuck. Dr. Beale is a top tummy tuck surgeon in Dallas, TX and is ready to help you achieve your ideal body. Call (972) 566-3001 and schedule your consultation with Dr. Beale.