I'VE LOST A LOT OF WEIGHT—NOW MY SKIN'S TOO SAGGY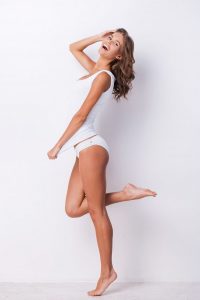 If you've recently gone through extreme weight loss, then you might know a thing or two about dealing with excess, saggy skin. It's incredibly frustrating to work so incredibly hard on your body only to have to live with another problem that makes it hard to wear certain clothes, exercise, and move freely. Lucky for you, there's a series of body contouring procedures called Post-Bariatric Plastic Surgery that can help you get the body you deserve.
LOWER BODY LIFT (CIRCUMFERENTIAL ABDOMINOPLASTY)
This procedure is great for removing large amounts of excess skin and fat from the lower body, and it's great for creating dramatic results. This procedure is almost like a more substantial form of the tummy tuck; a lower body lift will tighten and lift areas from the lower back, trunk, upper thighs, outer thighs, buttocks, and flanks. It also tightens the abdominal muscles to give your belly a more athletic look.
Incision: Your incision will be horizontal and span the width of your body, kind of like a belt. It can be easily covered up by your underwear or pants.
Recovery: You will need to stay overnight in a hospital for one or two nights.
Recovery Gear: Compression garments, and possibly drains and removable sutures.
BREAST LIFT (MASTOPEXY)
A breast lift removes excess fatty tissue and skin to lift the breasts into a perkier, youthful shape.
Incisions: there's actually a wide variety of incisions that either go around the areola, go down from the areola to the breast crease, along the breast crease, or a combination of multiple incisions. Your incision pattern will depend on the amount of sagging, size of the areola, and shape and size of the breast.
Recovery: You can return to your job after a week or so.
Recovery Gear: Compression bras and possibly some drains.
THIGH LIFT
This procedure contours the thighs to help you gain more freedom of movement.
Incision: Your incisions will be hidden on the inside of the leg, and go from the knee all the way to the groin.
Recovery: You can resume regular activities after 1-2 weeks and start exercising after 3-4 weeks.
Recovery Gear: Compression garments and drains placed in the incisions.
ARM LIFT (BRACHIOPLASTY)
Excessive skin that hangs down from the arms is more commonly known as "bat wings," and they're removed by cutting out and tightening extra skin. Liposuction can also be used to remove any excess fat in the arms.
Incision: Your incisions will be hidden on the inside of your arm, and won't be easily seen with your arms by your side.
Recovery: You might experience some temporary numbness early in your recovery, but you should be able to return to work after a week.
Gear: Compression garments and drains if you decide to also get liposuction.
Are you ready to get your body back? Contact a compassionate, talented surgeon like Dr. Beale to schedule a consultation and find out more about post-bariatric plastic surgery.