IS BREAST IMPLANT DROP N' FLUFF REAL?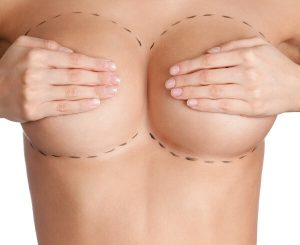 Have you heard of "drop and fluff?" This catchy phrase provides a simple explanation of the important changes your breasts will undergo after breast augmentation surgery. The results you see right after breast surgery are not your final results.
Learn more about breast augmentation in Dallas, TX and breast implants at a consultation with Dr. Evan Beale.
WHAT IS "DROP AND FLUFF"?
When you first look in the mirror after breast augmentation surgery, your breasts may not look as expected. Most women find that their breasts sit higher on the chest wall than a natural breast at first. The skin and muscle will also feel very tight. Your breasts aren't used to having an implant inside, and the skin and muscle will need to stretch a little before you achieve a comfortable fit for your implants.
It takes some time, but your tissues will eventually relax to accommodate your new implants. As this occurs, your implants will "drop" to a more natural position on the chest. They will also "fluff" or expand slightly. It takes anywhere from a few weeks to a few months for this to occur. "Dropping and fluffing" may not happen to both breasts at the same time. Be patient and give the process time. Your gorgeous new breasts are worth the wait.
ENSURING YOUR BEST BREAST AUGMENTATION RESULTS
Dr. Beale is known throughout the Dallas area for creating stunning, natural-looking breast augmentation results. Our patients often come to our practice from recommendations from family and friends, usually current or former patients of our practice. Choosing Dr. Beale for your breast surgery is the first step to achieving results you'll love. Your choice of plastic surgeon is one of the most important decisions you'll make as you prepare for plastic surgery.
We'll partner with you for your breast augmentation surgery and will provide expert advice throughout the process, starting at your consultation. Turn to us any time you have questions or concerns; we're always here for you. You'll meet with Dr. Beale several times before and after surgery.
Dr. Beale provides detailed recovery instructions to each breast augmentation patient. Follow these instructions carefully to ensure that your implants settle properly. For the first few days, you'll need to take it easy. Too much activity before you're ready can shift breast implants out of position. It is very important to avoid exercise and heavy lifting for 4-6 weeks after surgery.
Make sure you wear your recovery garments as requested. These provide your breasts with the necessary support for proper healing. When you're ready to transition from your recovery garments into a bra, we'll give you tips to choose the right undergarments for your stage of healing.
Dr. Beale may ask you to perform regular breast massages after your breast implant placement. If you need theses massages to help your breast implants settle, we'll provide detailed instructions and show you exactly what to do.
We'll do our part to ensure your best breast augmentation results by providing you with exceptional medical care, and you'll do your part by carefully following recovery instructions. Allowing your breasts time to heal is essential to proper breast implant settling.
LINGERIE SHOPPING AFTER BREAST AUGMENTATION
Don't rush out and buy all new lingerie right after breast augmentation. Implant settling takes time, and your breasts will change in size, shape, and appearance throughout the process. We recommend that patients wait up to six months before fully investing in a whole new lingerie wardrobe.
WHAT SHOULD I DO IF MY BREAST IMPLANTS DON'T SETTLE PROPERLY?
"Dropping and fluffing" is a natural process and will occur on its own, no help needed from you. It does take time, so be patient. If you're concerned that your implants aren't settling properly, give us a call. Rarely, implants may require a slight revision to achieve the best possible look. Dr. Beale is committed to ensuring you love your look and will meet with you several times during recovery to ensure your implants settle properly.
"Dropping and fluffing" is an important part of the breast augmentation recovery process. After it occurs, your breasts will settle into position and achieve a more natural look.