HOW TO ACHIEVE YOUR GOAL WEIGHT BEFORE SURGERY AND WHY IT MATTERS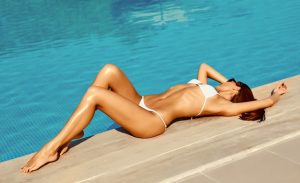 Hitting your goal weight before plastic surgery can be a challenge, but it is worth the effort. Learn the reasons why Dr. Beale recommends achieving your ideal weight before going under the knife. We're also sharing some of our best weight loss tips. Hopefully, this blog post will provide a little extra motivation to drop those final pounds so you can look and feel your best.
THE BENEFITS OF WEIGHT LOSS BEFORE PLASTIC SURGERY
Plastic surgery can transform the body, but it isn't an alternative to healthy lifestyle habits. Our body shaping and sculpting procedures in Dallas, TX act as a complement to diet and exercise, enhancing your efforts for a better result. If you're preparing for liposuction, a tummy tuck, post-bariatric surgery, or a mommy makeover, we recommend achieving your goal weight before you schedule your surgery.
There are many reasons to lose weight before your procedure including:
Better Final Result- Plastic surgery doesn't create muscle definition. When we remove loose skin and excess fat, the muscle tone you've developed through hard work is revealed. Surgery doesn't replace effort, but it does enhance it.
Weight Fluctuations Change Results- Losing or gaining weight after plastic surgery changes the results. Losing a substantial amount of weight after a tummy tuck can lead to loose skin. Patients that drop the weight before surgery have this skin removed during their procedure, but if you lose weight after surgery, the loose skin remains. Weight changes also impact liposuction contours.
Established Healthy Habits- Healthy habits will be key to maintaining your body after plastic surgery. Losing weight before surgery creates many of these habits and helps to maintain your look after the procedure.
You can do this! Make a diligent effort to achieve your goal weight before scheduling your body contouring procedures.
I'M STRUGGLING TO LOSE THAT FINAL 10 POUNDS- HELP!
Losing weight is a challenge for many of us. Even with your best effort, you may struggle to lose those final 10-20 pounds. Come see Dr. Beale and we'll explore options. Often, surgery can be performed on patients within 10-15 pounds of their goal weight. Many find that their new post-surgery body motivates them to maintain and even lose additional weight.
While we do recommend weight loss, if needed, before plastic surgery, we don't recommend yo-yo dieting. Make healthy lifestyle changes and achieve a stable weight before scheduling your plastic surgery.
DIET AND EXERCISE: THE FOUNDATIONS OF A HEALTHY WEIGHT
There is no easy secret to losing weight. It takes time, diligent effort, and often, lifestyle changes. If you're trying to lose weight before plastic surgery:
Load Up on Fruits and Veggies- Fill your plate with fruits and vegetables. These healthy powerhouses are packed with nutrition, not calories. Lean proteins and dairy and whole grains are other healthy options for weight loss.
Exercise Often- To lose weight, you have to burn more calories than you consume. Find physical activities that you enjoy and do them often.
Be Patient- Healthy weight loss takes time. Be patient and give your body time.
You don't have to lose weight alone. If you need help or advice, talk to your doctor. They can lead you to resources in your community and ensure that you're taking care of your body while you lose weight.
Before you schedule plastic surgery, prepare your body for the best results. Call Dr. Beale to schedule your consultation today.