HOW DOES PREGNANCY CHANGE YOUR BODY?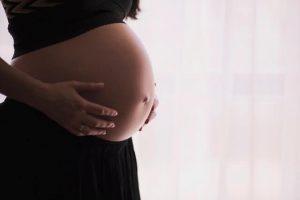 Having a baby means big changes, and not just regarding family size or lifestyle. Pregnancy changes your body, often in ways that are unexpected or unanticipated. Learn more about common physical effects of pregnancy and getting your body back after baby.
PREGNANCY MEANS BIG CHANGES FOR YOUR BODY
Growing a baby is no simple undertaking. Throughout pregnancy, the body transforms. What changes are common during pregnancy? If you're pregnant or planning on becoming pregnant, talk with your doctor about the specific changes you can expect during pregnancy including:
Women often first notice breast changes during pregnancy. The breasts may be sore and fluctuate in size through birth and breastfeeding.
Abdominal changes happen to all women during pregnancy. Since the abdomen expands so quickly, stretch marks are very common. Some women experience abdominal muscle separation.
Melasma, also known as the mask of pregnancy, is a type of hyperpigmentation that occurs during pregnancy, typically on the face.
Many of the changes experienced during pregnancy subside after the baby is delivered, but some linger. Many women feel conflicted about physical changes after pregnancy and birth; their bodies carried, delivered, and nurtured a child, but their body shape may look unfamiliar to them after these events.
CORRECTING THE AFTER-EFFECTS OF PREGNANCY
If you're unhappy with your post-baby body, ask us about a mommy makeover. Many of those unwanted changes are reversible through plastic surgery.  Get back to loving your body with customized treatment to correct the issues listed below:
Pigmentation Problems – Melasma often goes away on its own after pregnancy, but not always. We often treat pigmentation problem using skin resurfacing. Chemical peels and laser treatments are both effective solutions for brown spots, including melasma.
Excess Abdominal Skin – Diet and exercise can help shed pounds after pregnancy, but loose skin cannot be affected by healthy nutrition and activity. Patients with lax abdominal skin may benefit from a tummy tuck, a surgical procedure that removes extra skin and reshapes the abdomen.
Drooping Breasts – Mild sagging may be treated with a breast implant alone, but women with moderate to severe skin laxity will need a breast lift. This procedure removes excess skin and repositions the breast tissues for a rejuvenated, youthful breast appearance.
Loss of Breast Volume – Smaller breasts are a common post-pregnancy complaint. Restore lost breast volume or increase natural breast size with breast implants. Saline or silicone implants are placed to achieve the desired fullness and projection. This procedure can be performed on its own or paired with a lift.
Increase in Breast Size – Some women notice their breasts are larger after pregnancy, sometimes too large. Combat back and neck pain with breast reduction.
Unwanted Fat – Hormonal changes during pregnancy can lead to stubborn fat deposits. But these can be minimized with liposuction. This treatment isn't for weight loss but does an excellent job of shaping and contouring the body.
Abdominal Muscle Separation – Diastasis recti is a common post-pregnancy complaint. It occurs when the vertical abdominal muscles separate. A tummy tuck brings these muscles back together, improving core strength and helping you achieve defined results from stomach-toning exercises.
Stretch Marks – Topical treatments for stretch marks are often ineffective. The primary purpose of a tummy tuck isn't removing stretch marks, but it is an often-appreciated benefit of the procedure. A tummy tuck removes skin, and any stretch marks contained on the excised soft tissue. The procedure may be able to remove most of the stretch marks located below the belly button.
You don't have to pick and choose which post-pregnancy complaints to address. Our mommy makeover treatments combine procedures for the face, breast, and body. We can often pair procedures together for fewer trips to the operating room and less downtime. Schedule a mommy makeover consultation with Dr. Beale to create a personalized treatment plan that addresses your problem areas.
With a mommy makeover, you can love your body again after pregnancy, childbirth, and breastfeeding. Call today and learn more about your options for post-pregnancy rejuvenation.