GET SUMMER READY WITH A MOMMY MAKEOVER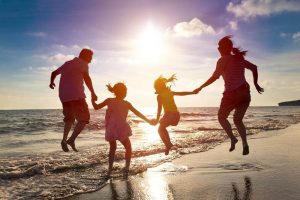 When it comes to swimsuits, there are two types, before baby suits and after baby suits. If you find yourself reaching for that full coverage one piece, but yearning for a teeny tiny bikini, come see us. A mommy makeover can help you to get your body back after pregnancy, childbirth, and breastfeeding. You can still rock a bikini, even if you have children.
RESTORE YOUR BODY WITH A MOMMY MAKEOVER
Pregnancy is a wonderful time, but it certainly takes its toll on the body. Many women develop breast sagging, stretch marks, and abdominal muscle separation for the first time during and after pregnancy. A mommy makeover uses plastic surgery to restore the body to a pre-pregnancy appearance. We combine surgical procedures like the tummy tuck and breast surgery to give you back the body you loved before baby.
What can a mommy makeover do for you?
• Correct breast sagging and enhance shape
• Even out breast asymmetries
• Restore breast volume or increase size
• Reduce breast size to relieve pain and pressure
• Remove stubborn fat pockets
• Tighten loose abdominal muscles
• Remove excess abdominal skin
• Rejuvenate the face and body
We'll work with you to create your customized surgical plan. Dr. Beale offers a wide variety of plastic surgery procedures to enhance and perfect your problem areas.
WHAT PROCEDURES ARE INCLUDED IN A MOMMY MAKEOVER?
Your mommy makeover will be customized to you, including only the treatments you need and want. These procedures are the most commonly selected for a mommy makeover, but other rejuvenating treatments can make an excellent addition to your treatment plan.
• Breast lift
• Breast augmentation
• Breast reduction
• Liposuction
• Tummy tuck
To figure out the best procedures for your mommy makeover, call us. We'll schedule a personalized consultation with Dr. Beale so you can discuss your goals and get treatment recommendations.
LOVE YOUR BODY AGAIN AFTER BABY
You've given a lot to your children, but you don't have to give up your body. Once you've finished having children, come in for a mommy makeover and get your body back. We want to help you love swimsuit season again. Come in now if you want to enjoy your results this summer. Call today!