GET READY FOR THE HOLIDAYS WITH INJECTABLES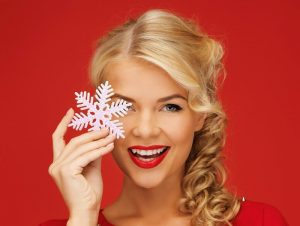 December is jam packed with holiday parties and celebrations. You want to look your best for these events, but who has time for downtime? Hurry in for a quick visit to Dr. Beale. Our injectable treatments can smooth out wrinkles and rejuvenate the face. With the average treatment taking less than 30 minutes with no downtime, injectables can get you holiday-ready without taking time away from holiday fun. Call us today to schedule your injectable treatment.
WHY INJECTABLES ARE THE PERFECT HOLIDAY REJUVENATION SOLUTION
The holidays are filled with friends and family, often people that we don't get to spend much time with otherwise. Obviously, you want to look your best. During the busy holidays, our patients are short on time, but hoping for big results from their cosmetic treatments. Injectables are one of our favorite pre-holiday treatments. Here's why:
Quick– The holidays are a busy time for most of our patients. Injectable treatments are quick and easy. Most patients spend about 30 minutes with us for their injectable treatment and return to regular activities immediately. Come in on your lunch or pop by on the way home from work.
No Downtime- Who has time for downtime during the holidays? You can return to your regular activities right after treatment. Go back to work or head to the mall to pick up a last-minute hostess gift for a holiday party with friends.
Results in a Few Days (or Sooner)- Thanksgiving has passed, but you still have time to get results from your injectable treatments for the remainder of the holiday season. Many dermal fillers provide instant results. Botox® results typically show up within three days after treatment.
One Treatment to See Results- No waiting around to obtain results from injectables. You'll enjoy long lasting results from your very first treatment.
Few Side Effects- Side effects are minimal after treatment. You may experience bruising, redness, or swelling at the injection sites. You can minimize these effects by avoiding blood thinning medications, including aspirin and ibuprofen. Side effects are typically minimal and resolve quickly.
Natural Looking Enhancement– Don't worry about looking fake or overdone after your injectable treatment. Properly injected dermal fillers and Botox® provide natural looking enhancement. Results are long lasting.
Are you ready for the holidays? Come see us for last minute rejuvenation.
BOTOX® OR DERMAL FILLERS- WHICH INJECTABLE TREATMENT IS RIGHT FOR ME?
Rejuvenate with injectables this holiday season. We offer both Botox® and dermal fillers. We can use either of these treatments separately or combine them, depending on your needs. Come in for a consultation and we can provide treatment recommendations after a quick examination.
Botox®– Botox® is a type of neuromodulator and works by relaxing the muscles that cause certain facial wrinkles. Every time you smile, squint, or laugh, your facial muscles contract, pinching the skin and creating wrinkles. By relaxing these muscles, the wrinkles can smooth and fade away. Since we use only a small amount of Botox®, just enough to relax the muscles sufficiently, you won't look frozen or expressionless after treatment. Botox® treatments work best on dynamic wrinkles including crow's feet, forehead creases, and the vertical lines between the brows. Results appear 2-3 days after treatment and last for 3-8 months per treatment.
Dermal Fillers– Has your face lost its youthful fullness? Dermal fillers can smooth out lines and wrinkles, restore youthful facial contours, and fill in hollows. We often use fillers to treat nasolabial folds, those vertical lines from the nose to the corners of the mouth. It can also enhance thinning lips and treat hollows under the eyes. Depending on the filler used, results last 6-18 months. Results are instantaneous, but it can take a few days for swelling and bruising to fade.
Botox®, fillers, or both? We'll work with you to find the right injectable treatments for your areas of concern. Whatever treatments we choose, natural looking rejuvenation with minimal downtime awaits. Come in for a consultation and treatment before the holidays this year.
RECOVERY AFTER AN INJECTABLE TREATMENT- WHAT TO EXPECT
If you're preparing for your first injectable treatment, prepare to be amazed. Our patients are often delighted at the ease of treatment and the quality of their results. You'll be back to your regular activities immediately. A little soreness or swelling is common, but should only last for a couple of days. You can ice the treatment areas, as needed, to control any discomfort. Our patients typically report minimal discomfort and a quick recovery.
What's on your to-do list before the holidays? If you want to look your best, we suggest adding on a quick visit to see Dr. Beale. Our injectable treatments will fit right in to your busy holiday schedule. The holiday season is here. Are you ready?