FAT GRAFTING OR FILLERS FOR THE MOST NATURAL LOOKING RESULTS?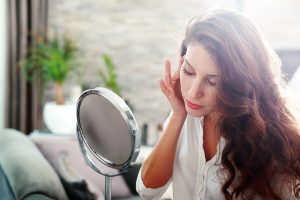 When our patients complain about early signs of aging, we often recommend injectable treatments to restore a more youthful look. These treatments help our patients delay surgical treatments, like a facelift, and in some cases, avoid them entirely. Learn about fat grafting and dermal fillers to determine which treatment will best meet your needs.
INJECTABLE TREATMENTS: RESTORING A MORE YOUTHFUL FACIAL APPEARANCE
One of the hallmark signs of aging is shifting facial fat. The face loses volume and fat deposits shift and reposition. This leads to lines and wrinkles, hollows, changing facial contours, and deep creases. To reverse these age-related changes, we often restore the missing volume. Injecting fat or fillers into wrinkles, creases, and hollows can fill them in for smoother, rejuvenated skin.
Both fillers and fat work well for restoring age-related volume loss, often providing similar results. We offer a wide range of fillers including Juvéderm®, Sculptra®, Restylane®, and Belotero. We also offer fat grafting, an injectable treatment that uses a patient's own fat cells in place of a synthetic filler. Both offer smooth, natural looking results. Combining these injectable treatments with a surgical lift can further enhance results. Facelift, brow lift, and eyelid lift procedures are popular choices for facial rejuvenation.
THE BENEFITS OF DERMAL FILLERS
Injectable dermal fillers are one of our most popular minimally invasive treatments. We use a small, fine needle to inject the filler into the skin. Filler treatments typically require no advanced preparation and no downtime.
There are many different types of fillers, allowing us to customize treatments to each patient's needs and aesthetic concerns. Fillers may be made from hyaluronic acid, calcium hydroxyapatite, polylactic acid and other substances. All of the fillers we offer are carefully chosen by Dr. Beale.
There are many benefits to using dermal fillers including:
No downtime
Wide variety of filler options allows for a customized treatment
Long-lasting results
Minimally invasive treatment
Minimal recovery time
Natural looking
We love using fillers and achieve great results for our patients, but these results are only temporary. Patients will need to come in every 6-18 months for re-treatment. Timing varies and depends on the filler used and the areas treated.
THE BENEFITS OF FACIAL FAT GRAFTING
Fat grafting is another way to restore youthful volume to the skin. A fat grafting procedure is two-part. First, fat is extracted and prepared using a procedure similar to liposuction. The second stage of the treatment involves injecting the fat into the desired areas. Fat grafting is a more invasive procedure than a filler treatment and requires a slightly longer recovery period. It offers long-lasting results and many patients will not require retreatment once the desired results are obtained.
THE BENEFITS OF FAT GRAFTING INCLUDE:
No synthetic fillers needed, only the patient's own fat
Long-lasting, near permanent results for many patients
Improves the appearance of both the treated area and the fat extraction site
Natural looking results
FILLERS OR FAT GRAFTING: WHICH OPTION IS BEST FOR ME?
For a more youthful appearance, both fillers and fat grafting are effective. We're certain that you'll love your results with both of these rejuvenating options. Choose a dermal filler if you want to minimize downtime. Fat grafting is ideal for patients that want longer lasting results.
We love to meet with prospective patients to discuss available treatments and weigh the benefits of each. Come in for a consultation and we'll help you decide between these two popular options.