COMPLETE REJUVENATION: FACELIFT AND NECKLIFT DUO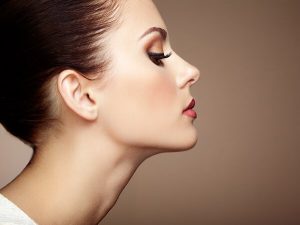 At Beale Plastic Surgery we don't believe in doing things halfway. Our goal is always the best: the best results, the best technique, and the best service possible. We do things right and that means better results for our patients.
One way we achieve better results is by ensuring that each patient receives complete rejuvenation. One area where this is very apparent is in our facelift procedures. Often when facial rejuvenation is needed, the neck is also showing significant aging. The solution is to rejuvenate the face and neck together. Your features work together, and age together. By rejuvenating multiple areas at once, we can restore a more youthful and natural looking appearance. Come in for a consultation with Dr. Beale and learn about the benefits of our facelift/necklift duo.
FACELIFT + NECKLIFT: THE BENEFITS OF COMBINING TREATMENTS
The face and neck bear the brunt of the aging process. These areas are almost always in the sun and often have significant sun damage. They are also highly visible, the first things you see when you look in the mirror. Many of our patients are unhappy with the appearance of their face and/or neck.
A facelift provides rejuvenation to the mid and lower face. It smooths nasolabial folds, tightens and lifts sagging skin, and addresses jowls. A necklift helps to rejuvenate the skin under the chin and on the neck. It can smooth banding, tighten up a double chin, and treat a turkey neck. By pairing these procedures together, the entire lower face and neck are rejuvenated. Dr. Beale can perform other facial rejuvenation procedures as needed, often during the same surgery.
By pairing procedures together, we can ensure a smoother, more complete result. Additionally, patients spend less time recovering. With one trip to the operating room and one recovery period, patients enjoy results from two or more procedures. Adding neck rejuvenation to a facelift only requires one small additional incision, but dramatically enhances results.
FAQS ABOUT FACELIFT AND NECKLIFT COMBINATION SURGERY
Many of our patients have questions about our facelift and necklift combination treatments. Discover the answers to many common questions below. We also welcome questions during a one-on-one consultation with Dr. Beale. Call us to schedule your visit to our beautiful plastic surgery facility in Dallas, TX.
Is It Safe to Combine a Facelift and Necklift? – Safety is our priority. We never combine treatments when it isn't safe to do so and will carefully review your medical history to ensure this combination treatment is a good fit.
How Long Is Recovery After Facelift/Necklift? – Most patients are back to work and other activities, including driving in 7-10 days. It will take additional time to resume strenuous activities, usually about 4 weeks.
How Long Do Results Last? – Like many other facial plastic surgery procedures, our face and necklift resets the appearance. Aging will continue, but from a new starting point. Most patients are still enjoying a younger looking appearance many years after their surgery.
What Procedures Complement Face and Necklift Surgery? – Many facial cosmetic procedures complement our facelift including brow lift, eyelid surgery, and facial fat grafting. Non-surgical treatments like Botox® and dermal fillers can also enhance and extend the results from your procedure.
Will I Need to Spend a Night in the Hospital After My Procedure? – Depending on the procedures performed, some patients will need to spend a night in the hospital after plastic surgery. This is most common after multiple facial procedures are performed. Safety is our priority. Dr. Beale will tell you if an overnight hospital stay will be needed after your procedure during your consultation.
Performing a facelift without addressing aging to the neck, is only handling half of a problem. By pairing these procedures together, we can provide complete rejuvenation. To schedule your consultation with Dr. Beale, call us at 972-566-3001.