CAN I PICK AND CHOOSE WHAT PROCEDURES ARE INCLUDED IN MY MOMMY MAKEOVER?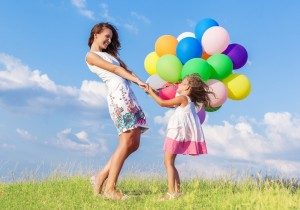 One thing's for certain—having a baby changes your body. A little less certain, however, is exactly what changes you'll experience. Some women find themselves with small, deflated breasts after pregnancy, while others struggle with issues that arise from an increase in breast size. Others have loose abdominal skin, covered in stretch marks. Whatever negative changes you experienced, your Mommy Makeover will help to reverse them. It is entirely customized to your body, your needs, and your desires. Love your kids and your body, too! Find out more about the Mommy Makeover.
I'M THINKING ABOUT A MOMMY MAKEOVER. WHAT ARE SOME COMMON PROCEDURES TO CONSIDER?
Pregnancy and childbirth can lead to many aesthetic changes in a woman's body. The purpose of a Mommy Makeover is to restore a pre-pregnancy appearance (or possibly obtain an even better one!). Although some women restore their pre-pregnancy body on their own with diet and exercise, an overwhelming majority of women need a little help. The following procedures are popular amongst many of our Mommy Makeover patients:
Breast Surgeries- Most women experience some changes to their breasts after pregnancy. Breast surgeries are common requests from Mommy Makeover patients. If your breasts increased in size, we can do a breast reduction For women who lost breast volume, we offer breast augmentation. If you have sagging, opt for a breast lift. The most popular post-baby breast surgery is probably our breast augmentation and breast lift combo. This procedure combines a lift with an implant to correct sagging, enhance shape, and increase volume. It's a complete makeover for your post-baby breasts.
Liposuction- Hormonal changes during pregnancy can lead to localized fat pockets that are often diet and exercise-resistant. Liposuction removes this unwanted fat. If you are close to your ideal weight but struggling with fat bulges, liposuction can restore your body.
Tummy Tuck- Stretched out abdominal skin and loose, separated muscles are common after pregnancy. This can leave the stomach area with a rounded appearance, even when you're not expecting. If your abdominal muscles are separated, regular exercise won't correct the problem, but a tummy tuck will. Muscles are tightened and excess skin and fat are removed for a taut tummy.
CAN OTHER PROCEDURES BE INCLUDED IN MY MOMMY MAKEOVER?
Breast surgeries, liposuction, and the tummy tuck are certainly some of the most popular Mommy Makeover treatments but, since your procedures are customized to you, they aren't your only options. Many women opt for facial rejuvenation (including a facelift, Botox®, or dermal fillers) at the same time as their Mommy Makeover. Talk with us about your areas of concern and we can help you find the right procedure or combination of treatments to address them. Our goal is for you to achieve your ideal body.