CAN I ADD A BREAST LIFT TO MY REVISION PROCEDURE?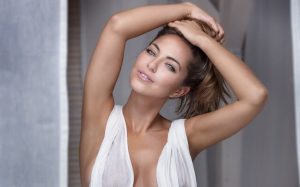 Gravity, pregnancy, breastfeeding and aging all take their toll on breast position and can cause the breasts to sag. Unfortunately, breast sagging is one of the most common complaints women have regarding their breast appearance. Further, women with breast implants aren't immune to sagging. However, there is a solution: A surgical lift.
If you already have implants, want implants, or have no desire for implants, breast lift surgery can still help you achieve more youthful looking breasts.
IS IT TIME FOR NEW BREAST IMPLANTS?
Breast implants are long-lasting, but at one point or another, you may need to make a change. Women exchange their implants for many reasons including:
Desire to change breast size, either larger or smaller.
Implant leak or rupture.
Change implant type, saline to silicone, or silicone to saline.
Upgrade older implants for newer models.
Breast augmentation complications like capsular contracture or bottoming out.
Breast changes after pregnancy, breastfeeding, or weight loss.
If your implants are no longer meeting your needs, it may be time to consider breast implant revision surgery, also known as implant exchange. During this procedure, old implants are removed, and new implants are placed into the breasts. In many cases, breast implants can be removed/replaced using the same incisions as the initial breast surgery.
BREAST REVISION SURGERY + BREAST LIFT- CAN I COMBINE TREATMENTS?
Breast implants can enhance your breast size and shape, but they do not address sagging. If you have breast sagging, you'll likely need a breast lift, or mastopexy, regardless of whether you already have implants. Breast revision surgery and a mastopexy can often be combined and performed at the same time. Many women get implants for the first time during a breast lift procedure.
Combining implant exchange and breast lift surgery offers many benefits including:
Recover from both procedures together for less downtime.
Eliminate sagging and replace implants with one surgery.
Fewer incisions and fewer scars.
If you need both an exchange and a lift, combining treatments will save you time, money, and discomfort. Dr. Beale loves offering combination treatments to his patient because they offer patients a better experience than if they were performed separately. It's important to note that we only combine treatments when it can be safely and effectively done. This way, you can be confident in choosing two procedures at once.
BREAST LIFT, BREAST REVISION, OR BOTH?
Choosing the right procedure, or combination of procedures, is essential for getting the results you want from your breast surgery. We'll talk about your goals during your consultation and will work with you to create a customized treatment plan.
BREAST LIFT
Choose a breast lift if you have breast sagging or if you want to rejuvenate your breasts, but don't have any concerns about size. A breast lift removes excess skin and repositions the breast tissues. Most women will need a lift after pregnancy and breastfeeding. Consequently, this procedure is a common addition to our mommy makeover.
BREAST REVISION
Many women love their implants at first but find that their breast shape changes with time. Breasts are constantly changing, with or without implants. If you're no longer happy with the way your breast implants look, it may be time for an implant exchange, also known as breast revision surgery. During a revision, we'll remove your old implants, correct any breast problems, and replace your implants. This allows us to change implant size and type and to address implant complications. We can use the same type and size of implant again if you're happy with your breast size/shape.
IMPLANT EXCHANGE + BREAST LIFT
Breast revision surgery can be performed at the same time as a breast lift. This procedure is very common after pregnancy, breastfeeding, and weight loss. Pregnancy often leads to breast sagging, even with implants. An implant exchange paired with a lift can address size changes, sagging, and other post-pregnancy concerns.
If you're not sure which procedure you need, come in and meet with our board-certified plastic surgeon, Dr. Beale.
DO I HAVE TO REPLACE MY BREAST IMPLANTS TO GET A BREAST LIFT?
Breast implants are an investment. If you have implants and need a breast lift, you may be wondering if you can reuse your same implants and save some money. There isn't a simple answer to this question. You'll need to come in and talk with us to determine your options.
Typically, newer implants that are in good condition can be placed back into the breasts after a breast lift. If you're experiencing complications with your implants, like capsular contracture, or if you have older implants, we may recommend replacing them. We'll talk about the pros and cons of keeping your implants and replacing them during your consultation with Dr. Beale.
Breast implants don't stop the natural process of aging. Breast sagging is inevitable for most women, implants or not. To keep your breasts looking their best, we offer a variety of breast surgeries including breast augmentation, implant exchange, and breast lift.