BREAST LIFT OR BREAST IMPLANTS: WHICH IS RIGHT FOR YOU?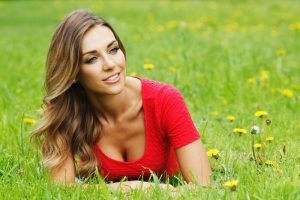 Are your breasts at their best? We help many women that are unhappy with the appearance of their breasts. Whether they are too big, too small, or too saggy, plastic surgery can reshape and resize your breasts, giving you the feminine appearance you desire. Come see us and learn more about your breast surgery options with Dr. Beale.
Breast lift and breast augmentation are two of our most popular options for breast surgery. Learn more about each procedure so you can decide which one is right for you. We're happy to make treatment recommendations if you're not sure which procedure you need. Call to schedule a consultation and sit down one-on-one with Dr. Beale, an award-winning plastic surgeon serving the Dallas, TX area.
WHAT IS A BREAST LIFT?
Your breasts are fighting a constant battle against gravity and time. Sooner or later, gravity is going to win. Breast sagging, also known as breast ptosis, is a very common problem and will affect most women at some point during their lives. Breast sagging is especially common after pregnancy and breastfeeding or weight loss. A breast lift is a surgical treatment that enhances sagging breasts to restore them to a more youthful and lifted position.
During a breast lift, the breast tissues are repositioned to a higher, more youthful placement on the chest wall. Excess skin is removed and the breast tissues are reshaped. The results are perkier and rejuvenated breasts. Breasts are usually similarly sized after breast lift surgery, although some women find they need a smaller bra size.
Although most women will experience breast sagging to some degree, genetics, breast size, skin quality, aging, lifestyle, and other factors can affect the extent of sagging you'll experience. Breast lift surgery is especially popular after weight loss and pregnancy.
WHAT IS BREAST AUGMENTATION?
Do you wish your breasts were larger? Many women dream of bigger breasts and breast augmentation is one of the best ways to turn that dream into a reality. Breast augmentation places implants into the breasts to add size and enhance their shape. Breast implants are strong and long-lasting, typically made from silicone with a saline or silicone gel filling. With breast implants you'll enjoy long-lasting breast enhancement. Many women are able to keep the same implants for many years without complication.
During breast augmentation, a small incision is made on or near the breast. An implant is placed into the breast through the incision. The size of your incision will vary, depending on the type and size of implant you've selected. Once the implant is in place, it is filled (if needed) and the incisions are closed.
Breast augmentation increases breast size but does not remove excess skin. It can address mild sagging due to the increase in breast volume.
BREAST LIFT VS. BREAST AUGMENTATION
Which procedure is best for you: breast lift or breast augmentation? These two procedures are very different and address different breast concerns.
Breast Lift- Choose a breast lift if you have breast sagging or drooping. This procedure can also address changes in the breasts' shape after pregnancy, weight loss, or aging. A breast lift will lift your breasts into a more youthful position and shape.
Breast Augmentation- Choose breast augmentation if you want bigger breasts. This procedure places an implant into the breast and adds volume. Breast implants can also enhance your breast shape.
If you're not sure which procedure will meet your needs, come see us for personalized treatment recommendations.
DO I NEED BOTH A BREAST LIFT AND BREAST AUGMENTATION?
Why choose between a breast lift and breast implants? Many women can benefit from both procedures together. Breast lift and breast augmentation surgery are one of our favorite combination treatments. They can be performed at the same time to increase your breast size and address sagging breast tissues. Give your breasts a full transformation.
Combining breast lift surgery and breast augmentation has many benefits including:
Fewer Incisions- Breast implants can often be placed through the incisions used for a breast lift. This means fewer incisions and fewer scars.
Less Recovery Time- When you pair two procedures together, you can recover from both at the same time. This means less downtime. You're busy. Combine treatments and maximize your time and results.
Better Results- Many women want to increase breast size and address sagging. By combining treatments, we can fix multiple issues at once, often achieving better results than would be possible by performing each procedure separately.
Breast lift or breast implants? Come in and learn more about both options to choose the best fit for your breasts. Call today and schedule your consultation with Dr. Beale.