BREAST AUGMENTATION: WHY SOME PATIENTS REGRET GOING TOO SMALL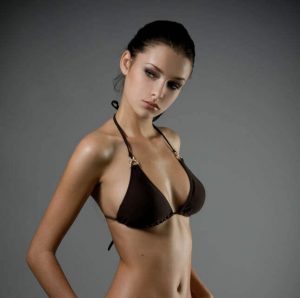 One of the most difficult decisions you'll make as you prepare for breast augmentation is choosing an implant size. Finding that sweet spot between too big and too small can be challenging, but it is worth the extra effort and time. We'll help you find your perfect breast size at your breast augmentation consultation with Dr. Beale.
NOT TOO BIG: THE PROBLEMS WITH BREAST IMPLANTS THAT ARE TOO LARGE
You can have too much of a good thing. Natural looking breast augmentation is very popular among our patients, and implants that are too large will quickly give your secret away. A chest that is too large looks unnatural on a smaller framed patient and, looks aside, can be uncomfortable. It is important to choose implants that are not too large for your body size and lifestyle.
Choosing large breast implants can lead to unsatisfactory results, and potentially the need for breast revision surgery later. Common problems associated with overly large implants include:
Insufficient Breast Tissue Coverage – Breast implants are placed are covered with natural breast tissue. This tissue coverage helps to smooth and soften the edges of the implant and ensures a natural look and feel. If you choose an implant that is too large, you may not have enough natural breast tissue to cover it.
Difficulty with an Active Lifestyle – Large breasts are heavy. They can make activities like running or high-impact exercise uncomfortable and difficult. If you live an active lifestyle, let Dr. Beale know. Smaller implants can provide voluptuous curves, without interfering with your favorite activities.
Clothing Fit Difficulties – Large breasts can be difficult to clothe. Loose, unfitted clothing can look frumpy and disheveled. Tight, fitted clothing often looks more revealing than intended. With large implants, it can be difficult to find a top that fits both the breasts and the waist. Appropriately sized breast implants can eliminate many clothing-fit difficulties associated with large breasts.
Pain and Discomfort – Implants that are too large can be uncomfortable. Posture changes and back, shoulder, and neck pain may occur if breast implants are too large for your body size.
NOT TOO SMALL: WHY PATIENTS OFTEN REGRET GOING TOO SMALL
Many patients worry about going too large with their breast implants and choose a smaller, more conservative size. This eliminates the problems associated with large implants but creates new problems of its own. Going too small with your breast implants is problematic too. Don't let worry about breast augmentation complications cheat you out of breasts you'll love.
Going too small doesn't carry the same physical challenges that overly large breast implants can, but may be problematic, nonetheless. The biggest problem with going too small is an underwhelming breast augmentation result. The change isn't dramatic enough to produce the desired effect.
Breast implants that are too small are a common cause of breast revision surgery. If you're going to invest in breast implants, go through breast augmentation surgery, and recover from the procedure, make sure that you love your results. Going too small runs the risk of disappointment.
FINDING BREAST IMPLANTS THAT ARE JUST RIGHT

How do you know if you've found the right fit for your breast implants? There is no set formula for choosing implant size. Many factors including body size and type, lifestyle, aesthetic goals, and natural breast size will be used to determine ideal implant size.
This isn't a decision that most women can make quickly. Take your time and figure out what you want from your breast augmentation procedure. Dr. Beale can help you translate those goals into breast implant sizes. He'll help you find an attractive and functional fit for your breast implants in Dallas, TX.